2017 in Review

Happy Holidays and New Year All!
With the passing of winter solstice and our Winter CSA's schedule purring along, I'm getting deep into my reflection on 2017 and dreaming up what 2018 will look like. But before we go forward, lets look back on the year:
Those whose life does not revolve around the weather will still remember this summer as one that almost never happened; a mostly cool, wet summer. July and August seemed like they never came. Finally, we had some heat in September and an extended fall with more cool rainy times. What a contrast to 2016's drought! From one extreme to the other, it really does make it hard to plan. So how did 2017's growing season affect our crops and animals?
Vegetables:
This year we had a new 3/4 acre field plowed up at the front of the Brownlee's Elphin Gold Farm to grow Highland Gem Farm veggies. In an attempt to consolidate field work within a larger garden, it turned out that it was the garden spot with the least drainage and spring crops suffered from the lack of oxygen and nutrient access in that front field. Plants in some areas were purple and stunted from May-August. The summer was pretty awful for growing our hot crops: winter squash, sweet potatoes, tomatoes, eggplants, and peppers, and they are susceptible to diseases when they spend extended times cool and wet. Fortunately for us, we have many smaller gardens at the Brownlee's and the higher, drier gardens provided us with reliable harvests for our wholesale orders and market table.
Later on, summer did come through with a very late ripening of fruit on the plants. The 'new field' crops were delayed in setting fruit several weeks by the cold and then just as they were finally getting going we had the killer frost. Again this is where diversity really saved us; the latter end of the growing season focused on winter root crops which are frost hardy (carrots, storage radish and turnips, cabbage and broccoli) for our Winter Veg CSA.
As the snow held off the fields until the late November, this allowed for an extended growing/ripening season for the cold hardy crops. The only challenge was getting them out of the field and into storage, it rained and rained some more throughout October and November. We almost didn't get the garlic in! Speaking of garlic, it was a tough year for garlic growers who had heavier soil (like us in Elphin). Garlic sat in cool, wet conditions under mulch for longer than desirable, so we ended up with more disease and split garlic than usual. We had to plant all the large good stuff and are working through the smaller cloves in our kitchen and CSA over the winter. The season ended a bit funny with a failed storage beet planting which meant no beets for thanksgiving markets or winter CSA boxes. Carrots and brassica roots were gorgeous however, enough for a colourful variety in our diets this winter.
A cold wet year, while bad for nightshades, is good for leafy greens. We had a record year for the most-beautiful kale, broccoli, lettuce, and arugula crops. There was a major glut of early summer lettuce at the markets and then a shortage at the end of the season which was kind of funny. We (the other vendors) must have all assumed someone else was going to pull through for the whole season I guess! While lettuce is generally a high-demand and valued crop, I found that folks were decreasing their lettuce prices at the market to sell out and that was very disappointing for me. Personally, I believe discounting vegetables at the market demeans the work we do getting that food from seed to table. So I lost interest in competing and focused on consistent carrot and beet production. Perhaps a more educational approach to customers and conversations with fellow vendors would go along way to resolve these feelings, always improvements to make each year.
Well that kind of sums up the field notes from the year; there was a lot of mad weeding and sporadic plantings in between rainy periods. Effectively speaking, I can labour over a planting and harvest schedule as much as I like and nothing ever goes according to plan due to the unpredictability of each season!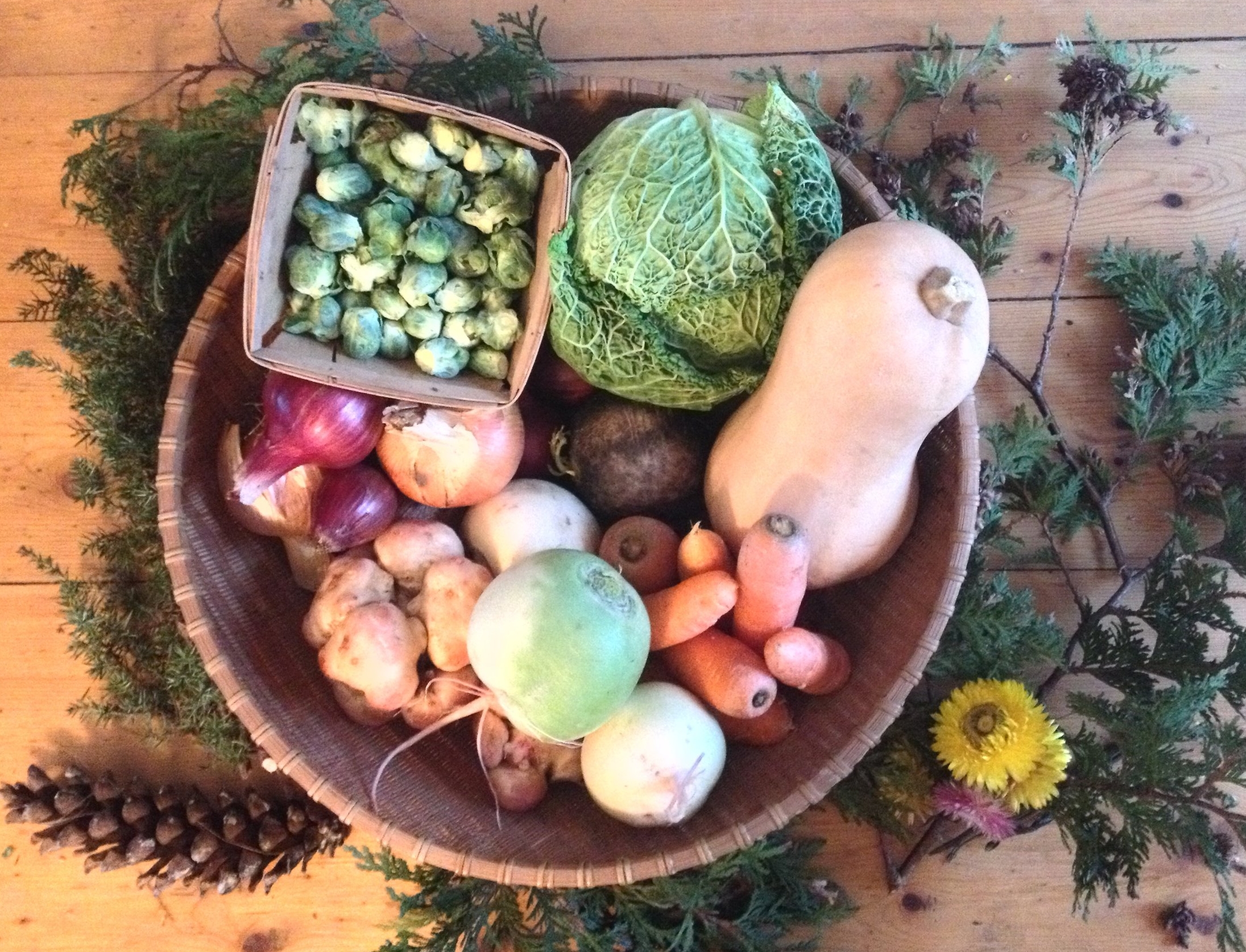 What worked: Increased sales at the Perth and McDonalds Corners Farmers Markets; Sold out CSA shares (!!); Leafy greens, carrots and storage brassicas!
What didn't work: Didn't get a greenhouse up; borrowing space at a greenhouse 35 km away for seedlings and a rather inefficient amount of driving to seed, pot-up, and transport plants. Working 6-7 days/week including an off-farm job was a bit too stressful.
There are so many lessons learned in each year- especially when you're just starting a new business!
Onto next years gardens... seed catalogs are in and conferences have been attended, there is no shortage of inspiration. I saw a silly drawing on the internet that pretty much summed up gardens and farmers alike at this time of year..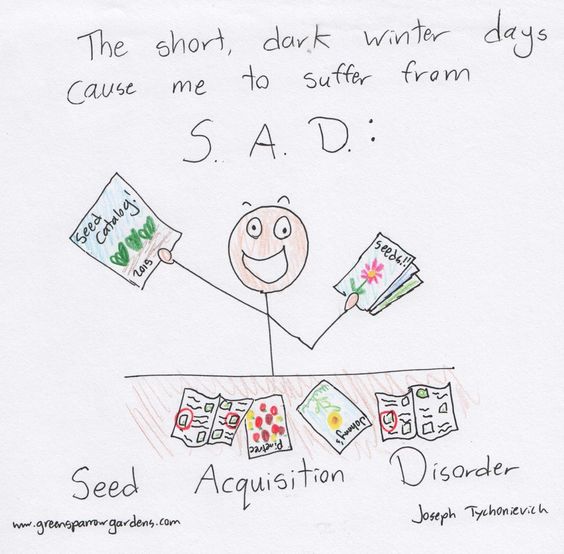 Animals:
This year we raised 12 pigs for market cuts, wholesale orders, and our Protein CSA program. This was a big increase from 3 pigs in 2016, both in labour and grain purchasing/consumption. Mac took on the animal production side of Highland Gem Farm.
Side note: this aspect of our farm model is most confusing to new customers. We lease land in Elphin for vegetables, in addition to barns and pasture at the McCall-Glover's farmstead in McDonalds Corners.
For our pigs, this was a great season. There was lots of grass to pasture them and the cool temperature plus lots of water to wallow in made for a happy life out in the fields. The pasture is particularly sandy and so drainage was not an issue and our animals were high and dry throughout the really cool, wet part of the season. Pigs are not able to sweat like humans, hence they love to wallow! When temperatures are cooler, these animals are very comfortable and really enjoy snuggling up together at night for warmth.
We even had a great adventure with four of them breaking out of their electric fence paddock and into the woods for 24 hours. Mac came home to evening chores and troughs still full of feed, immediately he knew they were gone. But where and how long ago??! It was our final fall batch of 4 pigs on the loose and you wouldn't believe how hard it was to track them! Fearing the worst as this batch of pigs was only a week away from their date at the abattoir. We looked well into the dark with headlamps and located some rooting and wallowing in the woods and wetland areas. But no sighting or sounds! Weary, we went to bed and called the neighbors in the morning in case they found a group of 200 lbs pigs in their yard! After another five hours of crossing wetlands, creeks, woods and fields, our border collie Maya ran off above a ridge into another section of forest and Mac heard some strange sounds. Mac was closest to the scene and ran up the hill to find Maya and four surprised pigs! Hurray, were they ever glad to see him! I could hear grunting from the lower part of the field and came running out to the most hilarious sight: Mac and a bucket in hand, an excited Maya dog and four huge pigs running across the field together! We continued at a running pace for another kilometer, mostly uphill, pigs in hot pursuit, back up to the barns. Three of four pigs were glad to tuck themselves back into the barn, head first into the trough of grain and water. Boy did they ever miss their grain. The largest of the four was most hesitant to join his comrades inside (obviously the escape instigator) but finally came to his senses and charged in. Within 20 minutes they were passed out, exhausted from their adventure. I was so pleased that they hadn't gone feral, enjoying their freedom in the woods. Glad that we give them a great life that they're happy to come home to:)
At the seasons end in November, our pigs all came in at great hanging weights at the butcher and we've really enjoyed the final product. Reviews have been most satisfactory!
Moving forward, we will continue to buy in non-certified organic weaner pigs from our friends at Maplelane Farm in Lanark. They raise berkshire x tamworth and pure tamworth piglets.
Our chicken enterprise this year was full of firsts and lessons learned. First they were a very healthy batch of birds which we are very proud of. Again lots of grass to pasture and since it was cooler, we had no losses in the field to overheating/dehydration! In fact we only lost 2 birds in total which is incredible by anyone's standards.
One aspect of chicken production we are still learning is when to book the best date to process the birds. Since Gov. Inspected abattoirs are few and far between in these parts, they book up quickly. So as soon as we receive our pick-up date for day-old chicks, we need to book our kill date, which I estimated would be 9 weeks later. When that day arrived, only a quarter of the birds were large enough to send, with majority weighing in at 3-5 lbs. We were hoping for 5-8 lbs. We held a few of the smallest back for our personal processing and freezers and found that 12 weeks was the golden age for size. Again learning curve when establishing our production methods. Some growers say they finish their meat birds in 8 weeks, some said 10, 12, and as long as 24! We've got to figure out what works for us in the end. Thankfully we still got a tasty product in the end.
What worked: hiring custom trailer transport for pigs to the abattoir, buying grain by the tonne instead of by the bag, having all the animals on pasture so there was less labour cleaning out barns, sold out of meat cuts and Winter Protein CSA program for 2017!
What didn't work: cost of travel and processing at abattoir for undersized meat birds, free-range laying hens (coyotes got any that weren't behind electric netting)
Thanks again to all our dedicated customers and new friends we've made in 2017! We hope to grow our relationships as we're doing something incredible here - nurturing local vibrancy and cultivating an agro-ecological culture.
Stay tuned for the 2018 program.
In solidarity and gratitude,
Erin & Mac